Monika Henreid presents Dead Ringer
Monika Henreid über Ihren Vater, den Schauspieler und Regisseur, Paul Henreid. Moderiert von Stefan Huber.
21.30 Film: Dead Ringer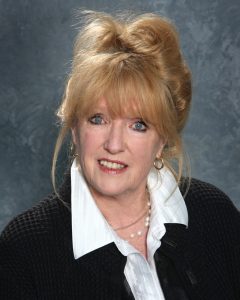 Monika Henreid, die Tochter des Schauspielers und Regisseurs Paul Henreid (1908 – 1992), arbeitet als Schauspielerin und Kostümbildnerin. Filme u.a.: The Omega Man (Boris Sagal, US 1971) Dead Ringer (Paul Henreid, US  1964). Derzeit bereitet sie ein Buch und eine Doku über ihren Vater. Paul Henreid, Beyond Victor Laszlo. A Daughter's Memoir vor.
siehe Monika Henreid und Paul Henreid bei den Dreharbeiten zu Dead Ringer
The daughter of Austrian born film icon, the multi-talented actor/producer/director, Paul Henreid, (CASABLANCA and NOW VOYAGER), Monika Henreid grew up surrounded by the great stars of the Classic Hollywood movie era.
As an actress, Ms Henreid has played significant roles in numerous, critically acclaimed and commercially successful films, including  Dead Ringer with Bette Davis, My Fair Lady with Audrey Hepburn and Rex Harrison and Bad Company with Jeff Bridges among others. In addition to her work as an actress, she has enjoyed success as a writer/producer/director. Her documentary film work also resulted in numerous appearances and keynote speaking and emcee engagements for major industry organizations such as The Academy of Motion Picture Arts and Sciences, Oscars Outdoors and the Turner Classic Movies Channel and Film Festivals. Most recently this work included the double feature screening and live discussion of Now, Voyager and Dead Ringer which was hosted by the American Cinematheque.
"I am delighted and honored to be back in Vienna to introduce and discuss my father's film, DEAD RINGER at Kino Unter Sternen on July 11th. I had the pleasure (and challenge) of appearing in the film with the great Bette Davis so the stories I tell are first hand and personal."
Currently, Ms. Henreid is also the CEO of a new global project including a major documentary film, the corresponding and integrated online multimedia platform and the companion book, titled "PAUL HENREID BEYOND VICTOR LASZLO" about the life and career of her father. This epic project is already enjoying considerable industry attention on a global scale.